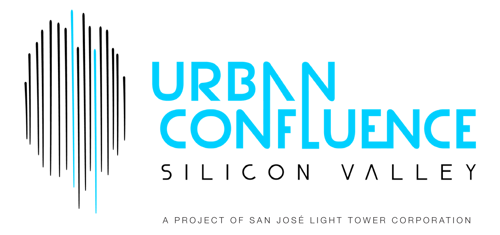 The mission of the San Jose Light Tower Corporation (SJLTC) is to build an artistically inspired iconic landmark that will become the architectural legacy of our current generation of leaders and present it as a gift to the city of San Jose, Silicon Valley – and the world! The project is NOT a "light tower". The founders were simply inspired by the original San Jose Electric Light Tower that existed from 1881 to 1915.
Created by the people, the Urban Confluence Silicon Valley organization envisions an impressive symbolic structure appropriate for this unique region that is recognized as the world-wide center of innovation. This bold destination landmark will provide a major enhancement to downtown San Jose, and be an important catalyst for Silicon Valley culture and long-term regional economic development. The internationally respected icon will offer a must-see place of hope, healing, and human connection – creating a compelling world-class experience for tourists and the local community.

Worldwide Competition Winner: Breeze of Innovation ...symbolizes people coming together, working together, and standing together.


July 25, 2022