San Jose is like a regional Keystone- linking surrounding areas into a whole. As the Urban center of the Valley, it can bring together the region's History, Technology, and Culture and form a new Urban community for the next Century.
Keystone Ring is designed to bring the San Jose community together and present the best of the city and Valley to the world. A new Unique Iconic Urban structure- the Ring Arch, together with park improvements - including a Fruit Orchard, and a Solar Orchard… tell the story of San Jose's Past, Present, and Future.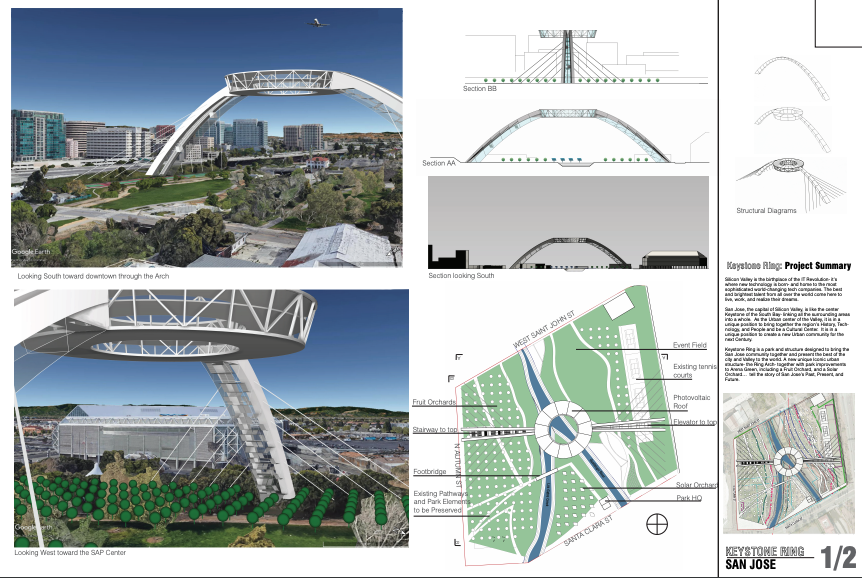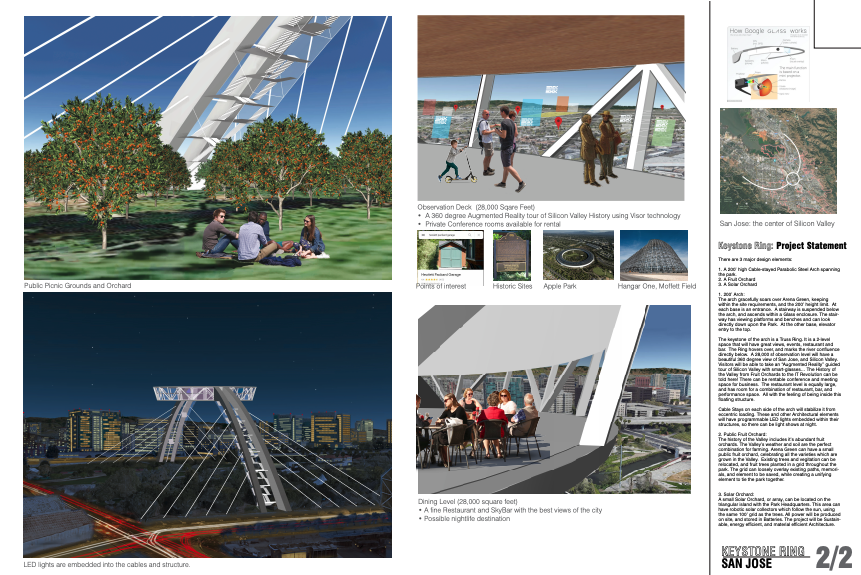 There are 3 major design elements:
1. A 200ft high cable-stayed Parabolic Arch gracefully soars over Arena Green, keeping within the site requirements, and the height limit. At each base is an entrance. On one side is a glass enclosed suspended stairway. On the other, glass elevators. The keystone of the arch is a large Truss Ring. The Ring hovers over, and marks the 2 Rivers confluence below. A 28,000sf observation level will have 360 degree views of San Jose and Silicon Valley. Visitors will be able to take an "augmented reality" tour of the valley with smart-glasseswhere the history of the Valley from Fruit Orchards, to the IT Revolution can be told! There can be rentable conference rooms for business. The restaurant level is equally large, with room for more than one restaurant, bar, and night club. All the interiors will have the feeling of being inside this floating structure. Cable stays on each side of the arch will stabilize it from eccentric loading. They will have programmable LED lights embedded within the structure for nocturnal light shows.
2. A Public Fruit Orchard will span the west side of Arena Green, telling the history of Santa Clara Valley's rich farmlands. Existing trees can be relocated. A 100ft grid of fruit trees can overlay existing paths and elements to be saved, unifying the park with its structure, and providing shady picnic, recreation spots, and fruits for visitors. The east side of Arena Green will retain its open event green and tennis courts.
3. A small "Solar Orchard" next to the Park Headquarters within Confluence Point can provide all the electrical power for the Arch. Robotic tree-like solar collectors can track the sun across the sky, while providing shade underneath. Battery Storage and energy handling can be done in the existing ground level structure. It will be a place to see future technology, and Sustainable Design, as the world shifts from fossil fuels to renewable solar energy.