San Jose is the leading symbol of innovation, creativity, and technological advancement. We propose that it becomes a pioneer of a future "New Normal" which places the harmony between humans and nature at center-stage.
A Net-Zero energy pedestrian bridge immersed in natural landscapes, "San Jose Green Loop" will weave itself between trees, crossing rivers, connecting distant spaces, and unfolding landscapes in the heart of the City.
A sustainable nature-scape of gardens and art installations, this "Philosopher's Walk" is a meditative path meant to unleash creativity and inspire innovative visions of a future that reconnects human sensitivity with nature and others.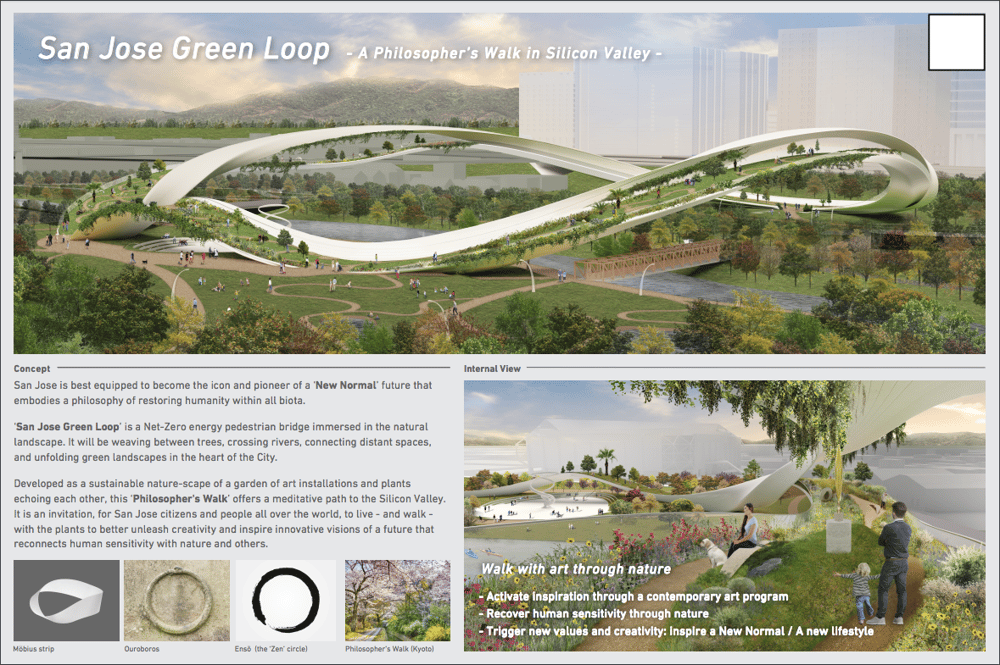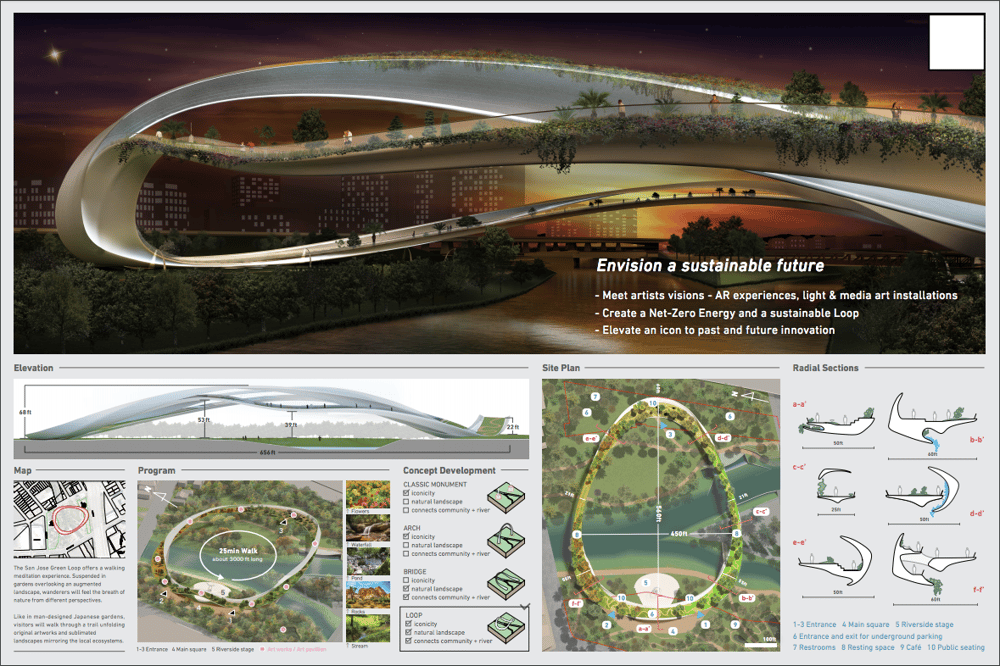 As humanity has entered a new era and has begun to wonder what could be the 'New Normal', society is in need of a new philosophy of life, one that entails a harmony among all biota to include humans. It is my hope that the San Jose Green Loop will become, for the people of Silicon Valley and for the world, a path for contemplation and inspiration to create a sustainable and innovative future.
We have seen how advanced computers, artificial intelligence and the Internet, some of the pillars of contemporary civilization, have been of paramount importance as the world has locked down in recent times. However, recent global events have also continued to demonstrate the limits of Capitalism and its lifestyles at a global scale.
While trying to imagine the future, people realize that our lives and our environments can no longer be durably sustained if we forget about our place in the world, our relation to nature, and our common humanity. We need to take the time to walk on our own feet again, to feel the breath of nature directly from our skin, and to take a fresh look at the world from different perspectives: we need to leave room for thinking, for reflection, and to let the nature reflect on us.
San Jose Green Loop is a pedestrian bridge, and a "philosopher's walk" offering a meditative experience through a nature-scape made of gardens and art installations echoing each other. It is an interpretation of the "Ensō", the Zen "circle", hand-drawn in a single uninhibited brushstroke to express a moment when the mind is free to let the body create. It is also like an eternal "Möbius strip": the "garden" shall not be an ornament, but a rich and natural environment mirroring and augmenting the local ecosystems to enable people to live - and walk - with plants. Wanderers will also discover a multiform contemporary art program running along the Loop meant to activate their inspiration.
A pioneer of the connective and cognitive capabilities of the most creative technologies as well as a world symbol for innovation, San Jose shall now also become the icon of the next revolution: with this iconic work of art, it shall be the first city to implement the philosophies and technologies that will trigger new values, mindsets and lifestyles for people around the world.