We introduce a radical and bold gesture that will give the city of San José a new landmark - a worthy expression of its innovative, progressive and creative identity. The Loop adds a new typology to the city, becomes an eye-catcher from the distance and at the same time offers a unique experience to the visitors in the park. The Loop is a symbolic structure right at the water confluence in the green heart of San José. An inspirational new gateway to the city that connects people and neighborhoods - a bridge from the present to the future.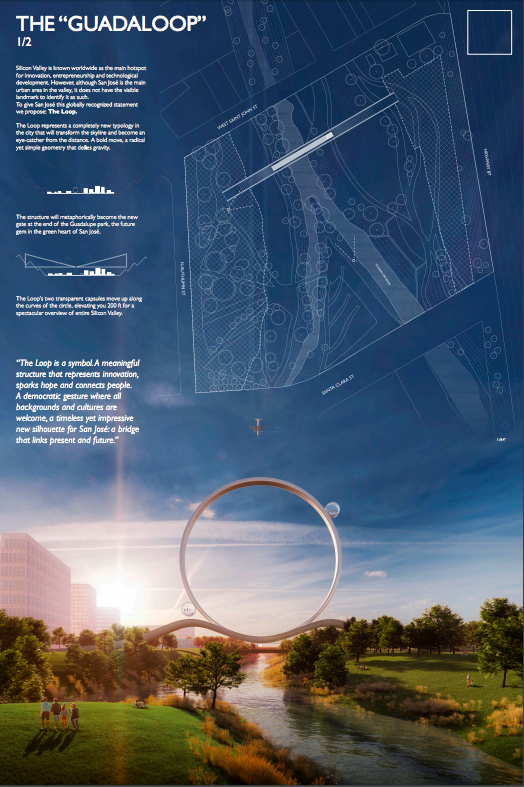 To give San José this globally recognized statement we propose: The Loop. The Loop represents a completely new typology in the city that will transform the skyline and become an eye-catcher from the distance.
A bold move, a radical yet simple geometry that defies gravity.
The strategically positioned ring seems to float over the confluence between Guadalupe river and Los Gatos Creek, perpendicular to the direction of the water and the linear valley. The Loop will metaphorically become the new gate at the end of the Guadalupe park, the future gem in the green heart of San José.
The structural supports that hover over the river banks hold the ring in the air and form a bridge between the two edges of the park. More than a beautiful landmark it creates a connection between two different parts of the city, bringing people together. Additionally, The Loop's two transparent capsules move up along the curves of the circle, elevating you 200 ft for a spectacular overview of entire Silicon Valley.
We aim for a sustainable, future-proof structure. While The Loop has great visual impact on the city, its footprint on the green area is minimal. Landing on the two sides of the Guadalupe river, the ring floats over the park.
Through exploring innovative ways to reuse materials, The Loop becomes an exemplary statement of a brighter and cleaner future. With the help of local technology the structural components can be recycled, pre-fabricated and even designed for future reuse, contributing to circularity.
At the same time, we aim for a net-zero energy design. The two capsules would be connected into the same ring and the kinetic energy of the down-movement of one would push the other one up. Also, we propose to cover the exposed surfaces of the structure with solar cells, generating the additional energy needed for the capsules.
The Loop will have strong presence also at night:
- A LED strip around the edges for illuminations during special occasions, days or events;
- Passive illumination: a luminescent product in the inner part absorbs sunlight during the day and, in a very subtle way, glows in the dark.
The Loop is a symbol. A meaningful structure that represents innovation, sparks hope and connects people. A democratic gesture where all backgrounds and cultures are welcome, a timeless yet impressive new silhouette for San José: a bridge that links present and future.